What is a Personal Loan ?
First of all a Personal Loan is a type of unsecured loan in which you don't have to submit any property as a collateral. You can borrow a this Loan for a variety of purposes. It can cover a number of expenses. In Personal Loan a borrower can fulfill their immediate personal needs.
What are the different purposes to take a Personal Loan ?
Finance wedding expenses
Meet medical needs
House improvement
Fulfil travel goals
Funds to meet higher education
Any other needs
What are the important things to know before taking a Personal Loan ?
It is important to have all the information before applying for a Personal Loan. It can improve the chances of approval of the loan. So you have to gather all the basic information before taking a loan. The different factors are :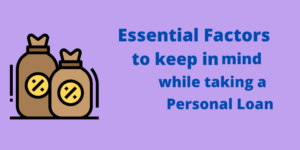 1. Decide the Loan Amount wisely :
This is the most important factor while taking a Personal Loan. The less amount you borrow, the easier it is to pay off your personal loan.  You should borrow the most essential amount for making your arrangements.
2. Lowest Interest Rate :
Since Personal loans are unsecured loans, the interest rate on this loan is very high. The interest rate usually starts from 11% and goes up to 20%.While taking a personal loan, choose wisely. Different banks have different types of interest rates on personal loans. Lower the interest rate of the personal loan, lower will be the cost of your loan. Also the interest rate depends on several factors like your income, credit score etc.
3. Good Credit Score :
A credit score based on your history of crest repayment. Credit Score is also known as CIBIL Score. The credit score ranges from 300 to 900 and above 750 considered absolute. A low credit score means bad debt management and this may result in your rejection of your application. You can maintain or improve your credit score by simply paying your dues on time and this will help you to get the personal loan faster and easier way.
4. Examine all different types of cost :
Borrowing a loan is not that easy. You have to pay different types of fees including processing fee, prepayment fee, and late payment fee. Consider all these fees that your lender charges to get a clear-cut estimate. By gathering this information you can decide whether the loan is affordable or not.
5. Give a closure look to your Finance :
Look at your financial condition before applying for any type of loan. Consider your present as well as future financial condition before taking a loan. A loan may be the solution to your problem but it would be difficult to manage if your financial condition is poor.
6. EMI :
Equated Monthly Income becomes the major factor before applying for a loan. EMI depends on the loan amount, interest rate and repayment period. EMI will be low with low interest rate and long loan tenure. So you have to wisely choose a bank with low EMI.
7. Disbursement time for a loan :
Sometimes we need a loan in a hurry. For example if you have a home renovation and you need urgent money. At such moments the speed with which your bank/lender disburse the loan is very much important.
8. Check your ability to repay the loan :
When you are applying for a personal loan it is important to check that you are able to pay it back. To find how much you have to pay as EMI, use EMI Calculator. Just you need the loan amount, interest rate and loan tenure and the calculator will display the EMI.